It is difficult for me to come up with titles for my entries. So what if you blog without titling it?
Jeremy has been sick with a flu of some kind since Wednesday. He called our house last night after 1 am to get someone to take him to the emergency room. Read took the call and picked him up and took him to St. Mary's emergency room. I told him to come here after. He was severly dehydrated. He had been having severe abdominal pains. They took blood for some testing, but don't have any results. He has been sleeping most of the day. Since Julie and the grandkids are vacationing with her mom's family in PA, I get to be "Doctor Mom".
I have been working on certificates for the children who signed up for the reading program. I think I have it the way I want it. I am also making up a scrapbook type page they can use in a scrapbook. The pictures are of them decorating their book bags.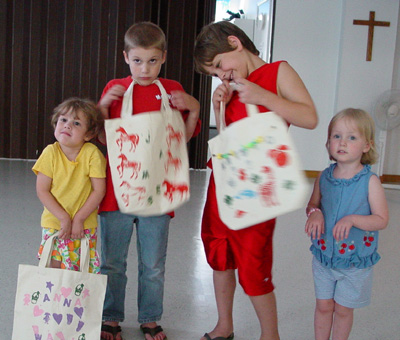 We took Grandma Anna for an outing. My husdand, Read, myself, and Grandma went and got our hair cut at Wal-Mart. Then we went out to eat. I think it was good to get her out, and she seemed to enjoy it.